Top 10 most valuable cards from Pokemon Rebel Clash
Released last year, the Pokemon Rebel Clash Expansion Pack was a much-awaited expansion for the game. It was the second one we got for this generation, and it added a ton of fantastic cards that the fans loved.
So today, we decided to rank the top ten most valuable cards from the expansion. The cards on this list are still pretty valuable as their prices haven't been reduced that much. Most of the cards in the top 5 are priced at more than $20 even after a year of their initial release.
The prices shown on this list are taken from Tcgplayer.com and eBay, so you want the most up-to-date price, try visiting these sites.
Video Overview
With that out of the way, we can start our list!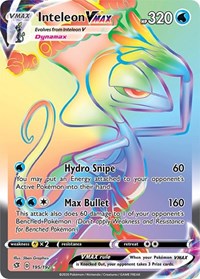 10. Intenleon Vmax Secret Rare ($18-22)
Inteleon was the sad little starter when it first arrived, but it became a smirky and strong Pokemon once it grew up. For this reason, the starter is really liked by the community. There can't be a better way to start our list than this.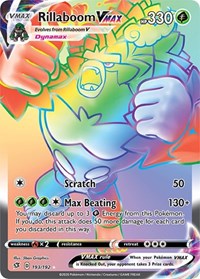 9. Rillaboom Vmax Secret Rare ($19-25)
After Inteleon, we have yet another starter on our drum beating Ape, Rillaboom. The name is enough to get this card's price pumping to the skies!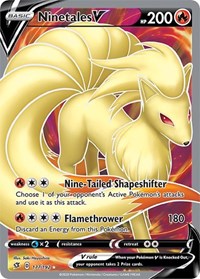 8. Ninetales V Full Art ($20-25)
Ninetales is a Pokemon that has been consistently popular for generations now. This Full Art card just adds to its legacy of greatness.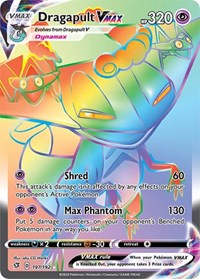 7. Dragapult Vmax Secret Rare ($21-26)
Probably the most popular Pokemon from Pokemon Sword and Shield, Dragapult has to be on this list. Pokemon Rebel Clash gave it a great card with incredible artwork, and fans loved it.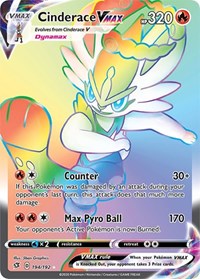 6. Cinderace Vmax Secret Rare ($23-27)
Cinderace was the most popular choice for a starter this time around; the soccer bunny is undoubtedly a famous Pokemon since the gen 8 games dropped.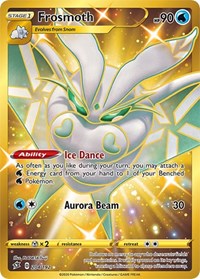 5. Frosmoth Secret Rare ($27-35)
The golden background with Frosmoth in the forefront is a perfect combination for a great card in the Pokemon Rebel Clash Expansion pack.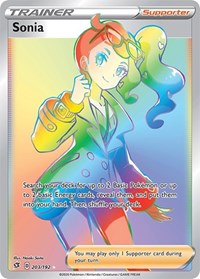 4. Sonia Secret Rare Rainbow ($28-35)
Trainer cars have really been popular in the Sword and Shield era TCG expansion packs. This Sonia Full Art rainbow card was costly when the expansion was initially released. Since then, it has seen a gradual decline.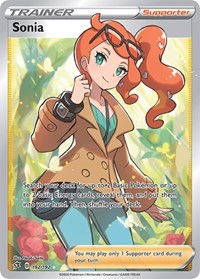 3. Sonia Full Art Secret Rare ($30-35)
Next up, we have the Sonia Full Art once again. The card is just so beautiful and straightforward; any TCG collector would love to have one.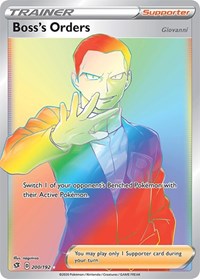 2. Boss's Orders Secret Rare Rainbow ($32-35)
Do you need a reason to know why this card is so popular? It is Giovanni, the leader of the notorious team rocket and pain for Jessie and James. The rainbow card is valued at around $30 as of now!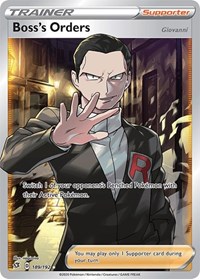 1. Boss's Orders Ultra Rare Full Art ($38-40)
We have yet another Giovanni card, this time on the top, the spot he like the most. This Giovanni full art card is the most expensive in the set, and you'd be lucky to get one for less than $40!
Recommended – Top 10 most valuable cards from the Pokemon Darkness Ablaze Set 2021!