As 2022 comes to an end, Pokefans like me across the globe are eager to know which Pokemon cards performed the best. Which cards came through the hype and still are revered amongst the community? That's what we're going to be taking a look at today!
We went through every single expansion released this year and pickled the best of the best to create this listicle. These 10 Pokemon TCG cards ruled 2022 with their excellent illustrations and rarity in the booster packs. From Full art trainers to alternate art cards, we've considered everything!
So without any further ado, here are the Top Ten Pokemon Chase Cards From 2022
10. Serena Full Art ($45)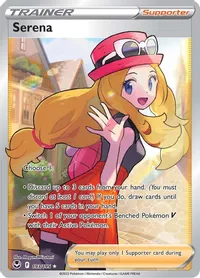 We start our list with Serena Full Art. If you've been a TCG fan, you'd see Full Art cards on these lists. The Full Art cards are rare and often have excellent illustrations! But if you think this list will be populated with Full Arts, you'd be surprised to know that this is the sole Trainer Full Art on the list!
9. Pikachu VMAX ($50)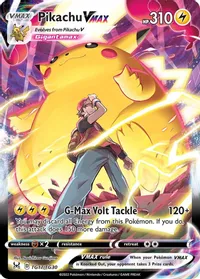 Next up, we have the Pikachu VMAX, a card that saw a ton of hype even before the launch. The card was first seen in the VMAX Climax set that was Japan exclusive; since then, Pokefans in the west have been eagerly waiting for this card to drop, and when it did drop, the prices soared!
8. Origin Forme Dialga V Alternate Full Art ($55)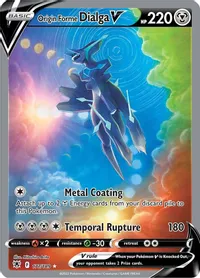 Pokemon Gen 4 remakes give new life to the gen 4  Pokemon, especially the Legendaries who got new Forms! The Origin from of Dialga looks glorious on this one, hence the hefty price of $55!
7. Origin Forme Palkia V Alternate Full Art ($60)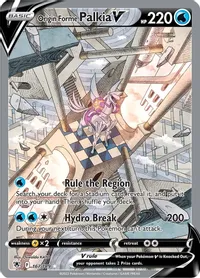 Following its counterpart, we have Palkia V alternate art on the 7th spot. Palkia origin form is not as liked as Dialga. But, this illustration makes Palkia look like a God of space as it distorts the reality around it.
6. Charizard VSTAR Secret ($65)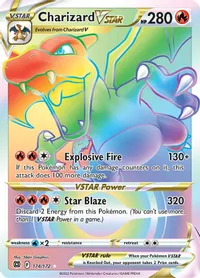 VSTAR is a short-lived mechanic in the Sword & Shield Era when it was declining. Nevertheless, some VSTAR cards managed to slip through the cracks of mediocrity and became great. The Charizard VSTAR is one such card!
5. Machamp V Alternate Full Art ($110)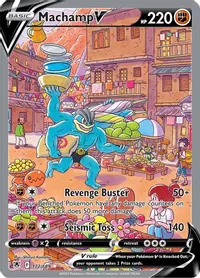 We enter our top 5 with the hardworking Machamp alternate art. The Pokemon can be seen in a city doing chores, probably for his master, who is a hotel owner. Alternate art cards which show day-to-day situations of the Pokemon world do good numbers.
4. Aerodactyl V Alternate Full Art ($130)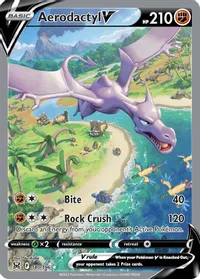 Aerodactyl might be prehistoric, but his hype still has yet to go away. It's hard to believe this generation 1 Pokemon still dominates this list in 2022. At a price point of $130, you'd be lucky to pull this masterpiece.
3. Charizard V Alternate Full Art ($190)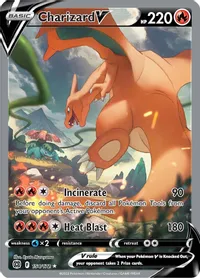 Now, this is what I like to call a Classic. The card features Charizard and Bulbasaur locked in combat on a freaking Volcano about to erupt! How cool is that? Charizard alone managed to rope in significant numbers. But, when you pit him in a battle against his rival, you're looking at a card that will stay relevant for years to come!
2. Lugia V Alternate Full Art ($205)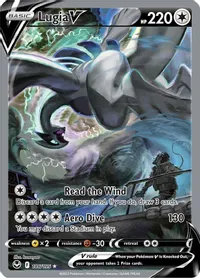 The Lugia V came late into the Sword and Shield era, but the wait was so worth it. The Pokemon can be seen in all its glory, flying across the sea and creating literal thunderstorms! The style does justice to the scenery the Pokemon is seen in; the expressive brushstrokes make it looks like the card's actually a GIF and the waves are moving. No wonder this is in the runner ups spot!
1. Giratina V Alternate Full Art ($270)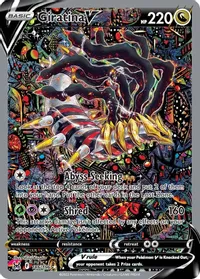 And the most coveted card of 2022 is the Giratina V alternate full art. And I'm not surprised at all; what else could you expect to form a literal God who rules the Distortion realm, aka Pokemon's child-friendly way of saying Hell!
The card shows Giratina in its original form, cruising through the distortion realm. This place hasn't been in the spotlight since the 4th gen Pokemon games, and I feel so bad. This place looks cool; I hope they make more games that take us to the distortion realm in the future!
So that was a list of the Top Ten Pokemon Chase Cards From 2022; I hope you've enjoyed it if you think some cards should've been given a  chance. Leave a comment down below!
Recommended – Top 10 most valuable cards from Pokemon Astral Radiance!