My Hero Academia fans, it's time to get excited because the release date for the much-anticipated My Hero Academia CCG League of Villains set has been announced!
March 23rd, 2023, is the date you'll want to mark in your calendars, as this is set to shake up the game with a host of new and exciting features.
First and foremost, the focus of this set is, of course, on the villains. This set brings a whole host of new villain characters to the game, each with their unique abilities and playstyles. Not only that, but players will also get their hands on 4 never-before-playable characters to build their decks around. This will give players an opportunity to explore new strategies and take on the game from a different perspective.
But the League of Villains set isn't just about introducing new characters; it's also adding a new level of depth to gameplay. The set will feature a cycle of powerful actions for blocking, giving players more control over the tempo of the game. Plus, as a nod to earlier sets, the set will include 2 throwback reprints, giving players a chance to add some highly sought-after cards to their collection.
One of the most exciting new mechanics in the League of Villains set is the inclusion of the first 2-Difficulty attack. This will challenge players to think differently when building and playing their decks, adding a new level of depth to the game. Additionally, the set will introduce a revisitation of counters as part of a character card, providing players with another way to interact with their opponent's cards and strategies.
Here are some of the cards that've been revealed so far!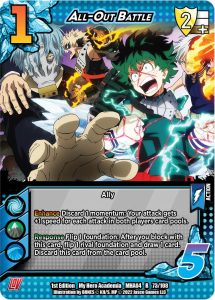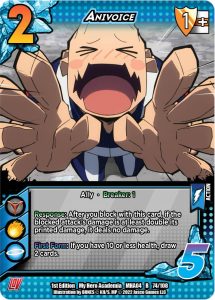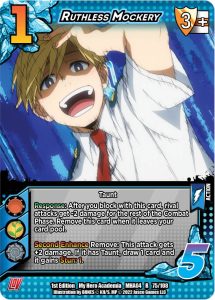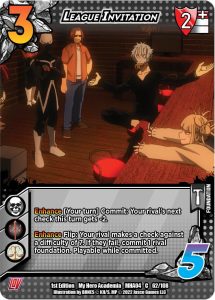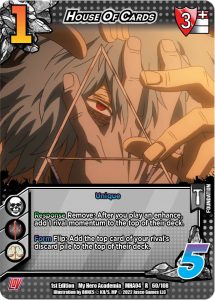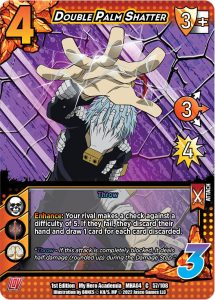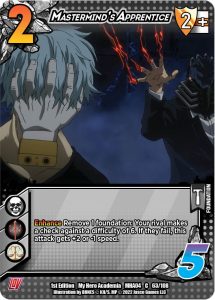 Furthermore, the set will introduce a brand new Keyword Ability, opening new possibilities in deck building and gameplay. This new ability will provide players with fresh ways to engage with the game and explore different strategies, making for a more dynamic CCG experience.
The Game Text on the cards in this set is also designed to be clever and engaging, with new combinations and mechanics to discover. From Enhance Commit, that can give your attacks an extra boost, to Enhance Remove that can disrupt your opponent's plans, the League of Villains set offers players a variety of options to experiment with.
All in all, the My Hero Academia CCG League of Villains set promises to bring a whole new level of excitement to the game. With new characters, powerful actions, and exciting gameplay mechanics, players will have much to look forward to when the set releases on March 23rd, 2023. Whether you're a seasoned player or a newcomer to the game, the League of Villains set is not to be missed.
So, mark the date in your calendar, and get ready to face off against the infamous League of Villains.
Recommended – Everything we know about the My Hero Academia CCG League Of Villains Set!